One of our amazing bartenders, Justin, was diagnosed with Stage IV lung cancer in spring 2014. Being all of 32 years old, we were stunned by the news. Justin left us on Dec. 25, 2014, and left a void we won't be able to fill. A second-line took place on Jan. 29, 2015,
Second-line held Jan. 29 to honor Justin
NEW ORLEANS -- Friends and family participated in a second-line on Jan. 29, 2015, honoring Justin Paul Shaver, who died Dec. 25, 2014, after a hard-fought battle with lung cancer. He was 33. The second-line began at the Phoenix at 941 Elysian Fields Ave., where Shaver was employed. Prior to the parade, attendees gathered for food and drinks at the Phoenix. The parade will make its way to Crescent Park in the Bywater at Piety and Chartres streets.
"Justin hadn't lived in New Orleans for very long before he found out about his illness. Nonetheless, he managed to touch every single person's heart that he met. It's pretty difficult to picture his face without a smile on it, surrounded by a sea of smiling friends," said Tom O'Brien, the event's organizer and Shaver's roommate. "We know that even in death, Justin would want us to dance and rejoice, as he did in life. This second-line is not for despair. It's for the love he gave, and the love we want to give to him."
The Faces of A Clean Shave for Justin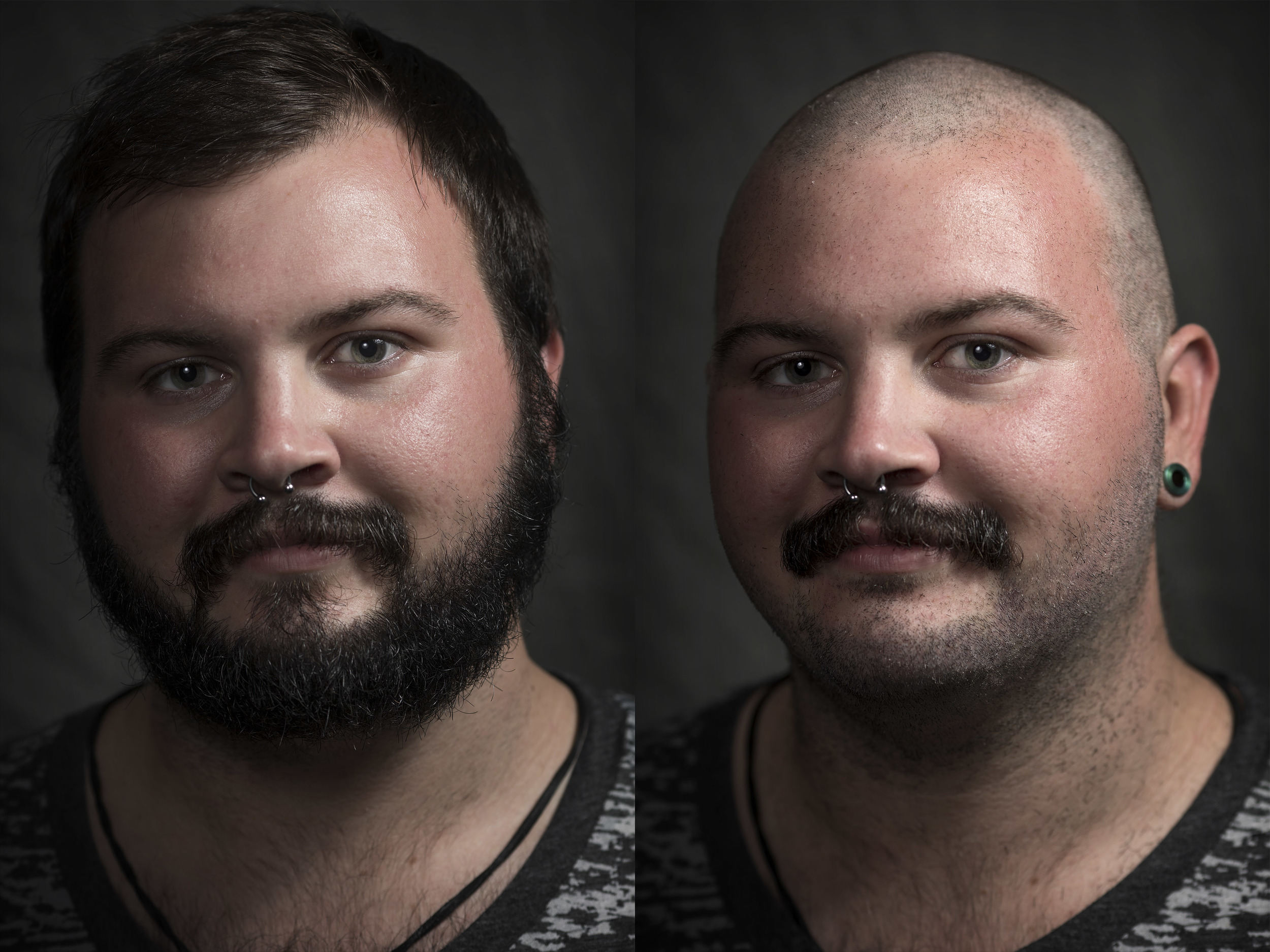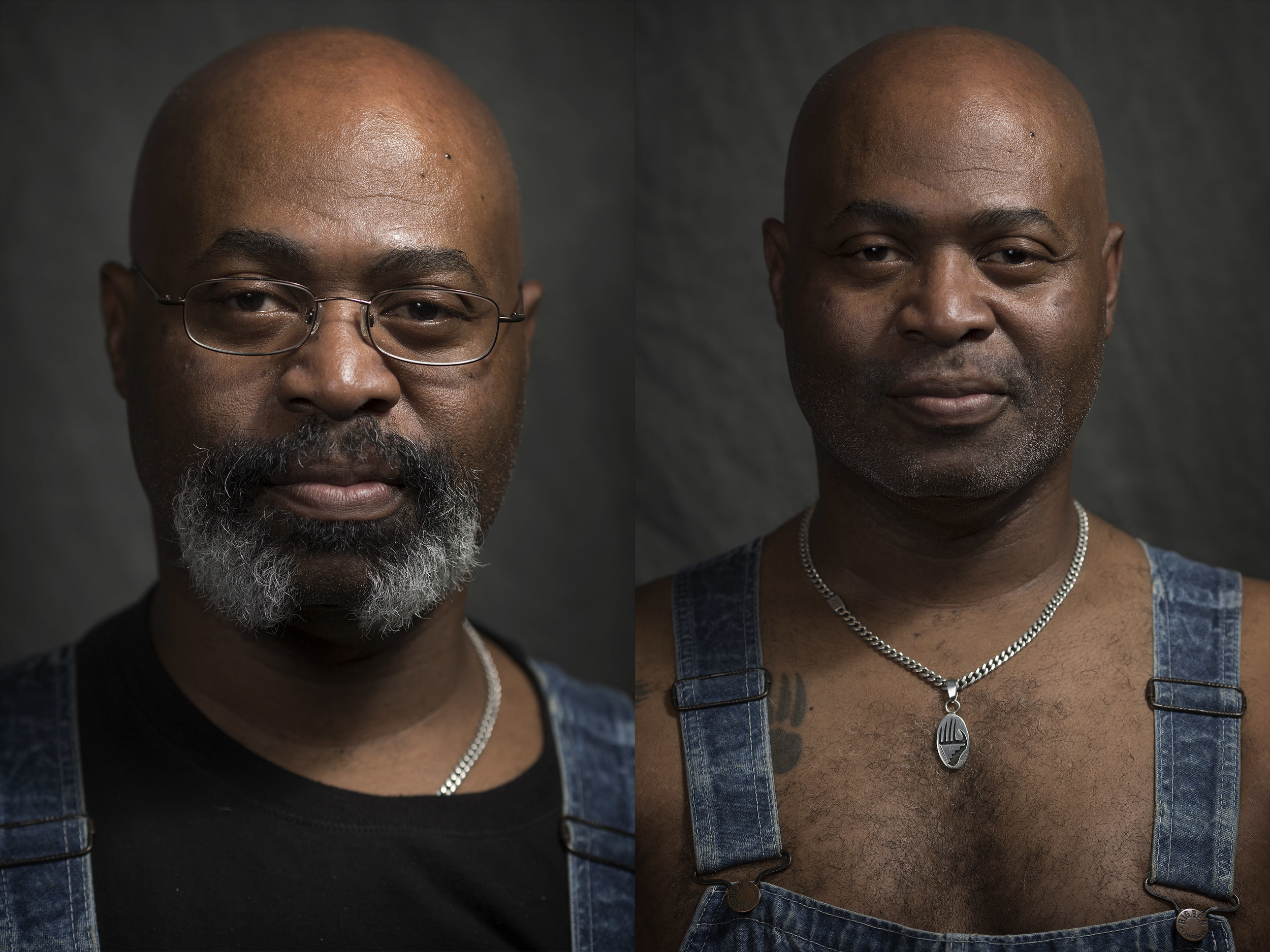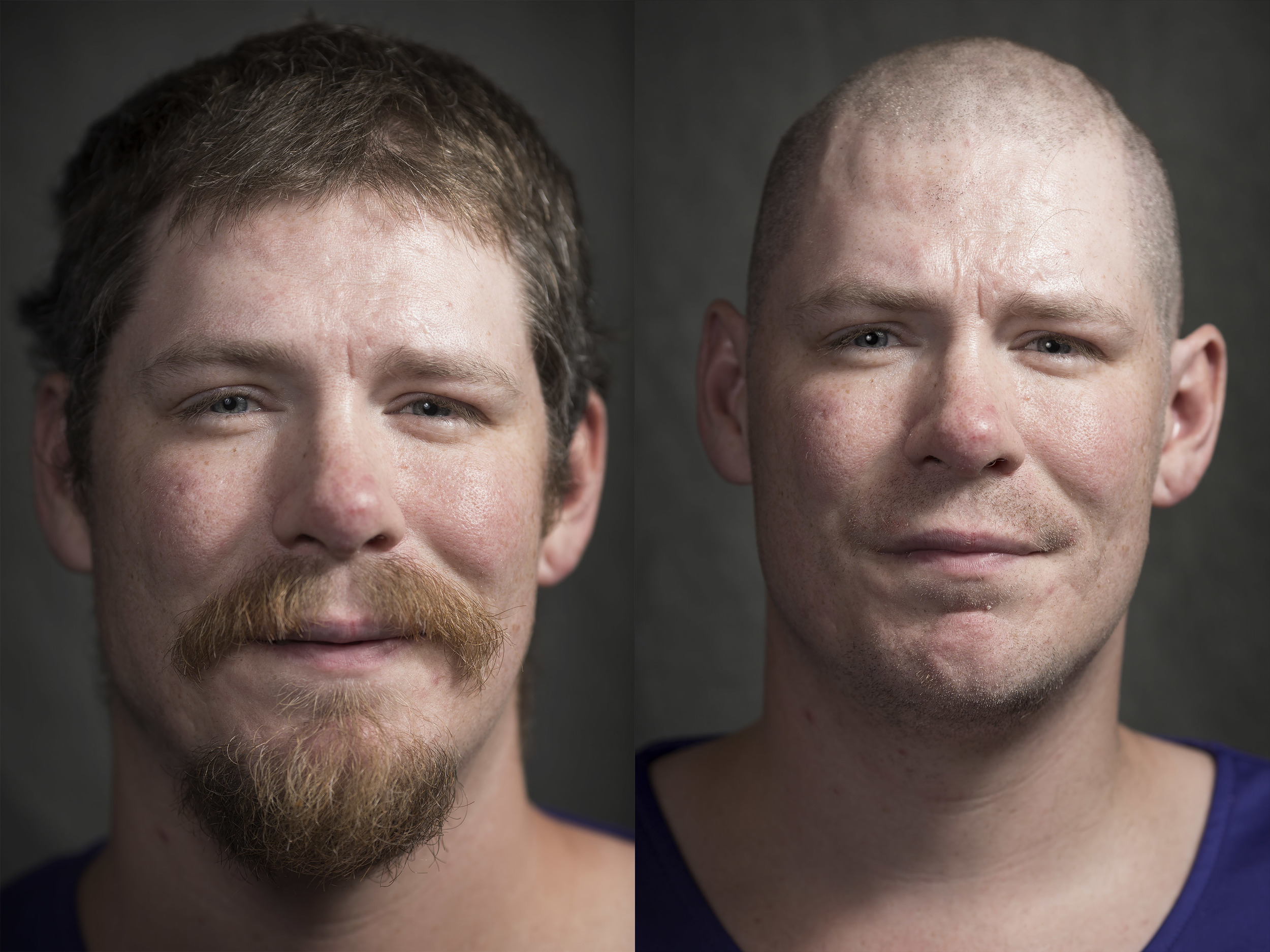 Photographed by Pulitzer finalist Edmund Fountain, each volunteer had their picture made before and after their Shave of Solidarity for Justin (pictured in the first slide). Thanks to Edmund for donating his time and talent for Justin's cause, and for so beautifully capturing each person's transformation!
Friends, patrons raise $2,275
for bartender's cancer treatment
May 31, 2014
NEW ORLEANS — In what was called a shave of solidarity, 29 area men parted with either their beards or heads — or both — at "A Clean Shave for Justin," on May 31 to raise funds for Justin Shaver, who was recently diagnosed with lung cancer.
The event, which took place at the New Orleans Phoenix, raised $2,275 to go toward the care of Shaver, 32, who works at the bar. Two by two, men got on stage as the crowd emptied their pockets and wallets to support their friend and coworker.
Leading up to the event, posters hung on the walls of the Phoenix with a photo of the volunteer and an accompanying reason why they were shaving for Shaver. Several men also volunteered to be shaved on the night of the event. Some shaved beards or just a few weeks while others parted with beards they had been growing upwards of 25 years. Shaver's friendship and contributions to the LGBT community were some of the myriad reasons given for shaving.
Shaver already had shaved his beard when he started chemotherapy a few weeks ago.
Celebrity barbers Bryan Austin, Jose Omar and Adikus Sulpizi donated their services as volunteers were shaved on a stage. Jack Browning served as emcee.
DJ Robbie Martin, who also shaved his head and beard, provided the music. Photographer Edmund Fountain, a Pulitzer Prize finalist, took before-and-after portraits of each person shaved.
"It was amazing that so many people came together to show their support and made a huge decision to be willing to change their personal appearance," said Clint Taylor, who owns the Phoenix. "The event itself was more than I could ever have imagined.
"I wanted to do this event because I did not want Justin to ever have to worry about how he was going to pay his bills." Portions of the bar's liquor sales, and underwear sales in COK, the clothing store inside the Phoenix, were also given to Shaver.
Taylor said more fundraisers are in the works in the coming months.
Shaver closed out the evening by shaving barber and fellow bartender Austin's beard, which garnered a $235 donation.
Shaver set up a GoFundMe page when he started chemotherapy with a goal of raising $10,000.